From the Soil to the Sky: The Science of Prairie Ecosystems
In this three-day camp, students will learn about science and nature from soils to plants and insects to mammals and birds by collecting and analyzing real data for a large prairie restoration project. The camp will have both laboratory and field components, giving students a well-rounded STEM experience. Lab components will be conducted at Doane in well-equipment laboratory and classroom spaces, while the field site for the camp will be Spring Creek Prairie Audubon Center, just 10 minutes away from Doane University.

Examples of camp activities include conducting bird and insect inventories and learning soil classification and sampling techniques. Students will use the data they collect to examine the level of success Spring Creek Prairie has achieved in restoring a native prairie. Students will learn how their skill sets can be applied to field sciences and use those skill sets to meet data collection needs at Spring Creek Prairie. The Soil to Sky camp will provide students with an engaging experience that allows them to use the same methods of exploration and discovery as scientists while emphasizing the multidisciplinary nature of STEM. Students will also have a great opportunity to meet peers from across the state and develop new friendships.
Middle School Camp
Open to blind and visually impaired students in 6th through 8th grades during the current spring semester.

Residential
Stay and dine in campus housing.
Crete, Nebraska
Experience the Doane University campus.
Summer 2023
Who's Eligible?
This camp is open to blind or visually impaired students in 6th through 8th grades during the current semester.
Youth must be predominantly independent and possess verbal skills appropriate within 1 year of their age.
COVID-19 vaccinations are required, must be able to provide proof of full vaccination.
Other medical Information will be reviewed once applications are submitted.
Explore
Experience working in a laboratory to design and implement experiments.
Learn about biodiversity and prairie restoration
Explore the Spring Creek Prairie Audubon Center.
Investigate
Perform surveys of bird, amphibian, and insect populations in a restored tall grass prairie.
Learn to sample and classify soils by feel.
Learn how to analyze data to better understand the success of prairie restoration activities.
Enjoy
Spend time with new friends from around the state.
Explore the Doane University campus.

Enjoy pizza with friends and family.


Doane University@headingTag>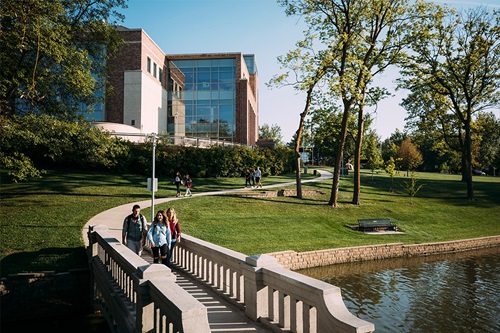 Doane University, founded in 1872, is Nebraska's oldest private liberal arts institution and serves over 1,000 traditional undergraduate students at its campus in Crete, Nebraska, which offers 44 majors and 38 minors. YNS summer camp participants will have access to well-equipped laboratories in the 60,000-square foot Lied Science and Mathematics Building. Together, the Departments of Biology, Biochemistry, Chemistry, Engineering, and Environmental and Earth Sciences have both faculty research laboratories and student laboratories that will be available for the YNS summer camp. Dedicated spaces for microbiology, general biology, biochemistry, general chemistry, organic chemistry, engineering, upper-division chemistry courses, and environmental and earth science will support student activities. Student research spaces include areas for bench work as well as low benches that are ideal for computer workstations.

Doane faculty and staff are developing this camp in close collaboration with the Friends of the Nebraska Commission for the Blind and Visually Impaired (NCBVI). NCBVI is the agency charged with providing all publicly funded blindness-specific services in Nebraska except those within the Nebraska Department of Education. Friends of NCBVI is a 501(c)(3) nonprofit organization assisting Nebraskans who are blind and visually impaired by providing financial support for programs and services not supported by federal or state funding. NCBVI and the Friends will serve as the lead consulting agencies for this project to help ensure that faculty, staff, and students at Doane University offer STEM programming accessible to Blind or Visually Impaired students but is also challenging, engaging, and fun.
COOKIE USAGE:
The University of Nebraska System uses cookies to give you the best online experience. By clicking "I Agree" and/or continuing to use this website without adjusting your browser settings, you accept the use of cookies.